-->
Title: Claiming Mariah
Author: Pam Hillman
Disclaimer: I received this book for free from Tyndale House in exchange for an honest review.
After receiving a letter from Mariah Malone after her father's death, Slade Donovan and his brother make the trip to her ranch to right the wrongs done by her father many years ago. Slade confronts Mariah with the truth as he knows it: that her father stole his father's gold and left him to die with a gunshot wound to his head. After seeing proof that the gold mine was deeded to Slade's father, Mariah and her grandmother turn the ranch over to Slade. Slade, torn between feeling tender toward the women who have done nothing wrong and feeling the need for vengeance toward Seth Malone, struggles to balance kindness toward Mariah and Mrs. Malone with his resentment toward Seth.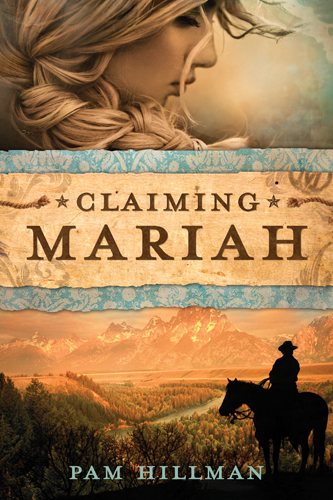 Frederick Cooper, a neighboring smooth-talking and suspiciously well-groomed rancher, has been trying to court Mariah for a few months. Mariah is tempted to accept his proposal of marriage as a solution to her financial predicament… but there's only one problem: she doesn't love him. In fact, if she's honest with herself, it's Slade, the man who has taken her home, her ranch, and her financial security, who is is now claiming her heart as well.
Mariah begrudgingly admits to herself that the ranch has prospered under Slade's leadership and as he runs it he discovers the reason for its lack of success. Follow the twists and turns of this entertaining novel as you delve into the world of ranching, thievery, betrayal, murder, and love. Can Mariah and Slade put their fathers' past behind them or will they allow their fathers' mistakes to rob them of their future?
I really enjoyed this book. It was well-written and easy to follow, but just intricate enough to allow you to catch on to the story and figure things out before you're told the whole story.
Mariah is sweet and kind, strong but gentle. She stands strong in the face of adversity and takes it on with courage and integrity.
Slade is Mr. Tough Guy with a tender heart that he struggles to let show. He struggles with the desire for vengeance and the desire for Mariah.
The book is a perfect mix of love, suspense, and a touch of mystery. I would like to read more books by Pam Hillman in the future. You can purchase Claiming Mariah at your local bookstore or online at Amazon.com.