-->
From the Publisher:
Sometimes everything you ever learned about yourself is wrong




Fashion is a fickle industry, a frightening fact for twenty-four year old model Ivy Clark. Ten years in and she's learned a sacred truth—appearance is everything. Nobody cares about her broken past as long as she looks beautiful for the camera. This is the only life Ivy knows—so when it starts to unravel, she'll do anything to hold on. Even if that means moving to the quaint island town of Greenbrier, South Carolina, to be the new face of her stepmother's bridal wear line—an irony too rich for words, since Ivy is far from the pure bride in white.

If only her tenuous future didn't rest in the hands of Davis Knight, her mysterious new photographer. Not only did he walk away from the kind of success Ivy longs for to work maintenance at a local church, he treats her differently than any man ever has. Somehow, Davis sees through the façade she works so hard to maintain. He, along with a cast of other characters, challenges everything Ivy has come to believe about beauty and worth. Is it possible that God sees her—a woman stained and broken by the world—yet wants her still?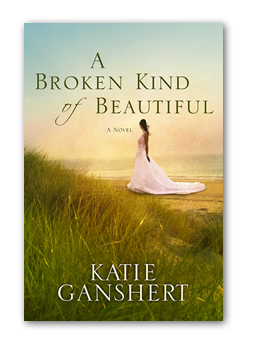 This book was amazing. I could not put it down; I'm so glad I had the entire day available to sit on my couch and read. I don't even know where to begin telling you about it.
A Broken Kind of Beautiful
is a love story not just between Ivy and Davis, but also of a God who loves us and claims us as His own, no matter how broken we are. Katie tells of God's redeeming, unconditional love through Ivy's story primarily, but also through Davis's, Sara's, and Marilyn's.
The book is set in the low country of South Carolina in modern-day and plays out over the course of a couple of months.
Ivy, the result of an affair between her mother and father, has had a rough life. Her father never wanted her, her love wasn't enough for her broken mother who turned to drugs, her uncle and agent only uses her until she's no longer useful…

Ivy is only as good as the appearance she keeps up. No one wants real; they just want sexy and that's the one thing she knows how to give. In a last attempt to save a dying career, her uncle sends her to Greenbrier to model her step-mother's wedding dress line.
During her time in Greenbrier, Ivy begins to see that there is someone who has loved her almost her whole life – her step-mother. And as she discovers how much Marilyn loves her, despite the fact that she is a child born of her husband's infidelity, despite the fact that Marilyn has been mocked and ridiculed by friends and family for her love for Ivy, despite the fact that Ivy pushes Marilyn away and rejects her… Marilyn still loves her, and if Marilyn loves her, then maybe the God that Marilyn loves can love her too. As Ivy begins to open her heart to love, she finds that God's love is enough… but Davis's is pretty good too!
I loved the characters in this book. The main characters were Ivy, Davis, Marilyn (Ivy's step-mother, Davis's aunt), and Sara (Davis's sister). Each of them were incredibly well-developed. Katie paints pictures for you with her words and I know exactly what each character looks like. There were a few supporting characters that added to the storyline, without being so well-developed that you wanted to know more about them or that you felt like they were insignificant. They were, however, well-developed enough that it's easy to keep them separate.
I truly loved this book. My heart broke for Ivy's pain and emptiness and I wanted to shake Davis out of the prison of guilt he wallowed in though the door was wide open for him to walk out. Marilyn and Sara's strength are inspiring. I cried with the characters during the climax of the book, which to me is exactly what makes it a good book. It's been a while since a book has made me cry.
I really like that Katie included a short prologue at the end telling what happened to the characters. If I had skipped it and let my imagination take over I would have still known the basics to how it ended, but I love that all of those little lose ends were tied up into a few short paragraphs. Just a little something extra.
This is such an excellent book and it will definitely be on the list of my absolute favorite books that I've read this year… Please do yourself a favor and go ahead and pre-order the book. Don't be cheap like me… you really won't regret buying this! You don't have to take my word for it... get a sneak peek here.
I want to read Katie Ganshert's other books now and any future books that she writes!
I received an ARC from the publisher in exchange for an honest review.